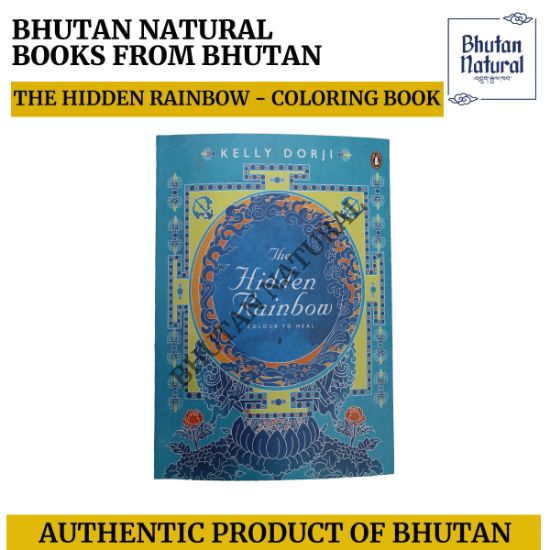 The Hidden Rainbow Colour to Heal
Kelly Dorji
A colouring book to take you through a therapeutic experience. Kelly Dorji takes you on a spiritual journey through Buddhist symbolism to help find your inner peace. In our busy lives, this book is the perfect oasis.
Kelly Dorji is not only an artist, but also a versatile individual who understand the multifaceted aspects of art that manifest as hope and beauty in one's life. 
The Hidden Rainbow took many months of gruelling research and revisions. Art is timeless and external, in that it is an expression of the self through symbolism. Though these symbols used in The Hidden rainbow may be Buddhist in their origins, it is true for all those who believe in the divine, the humanity and the innate goodness that is inherent in every single being. 
A GUIDE TO THE USE OF COLOURS AND THEIR SYMBOLISM IN BUDDHISM
The main colours used in Buddhist art are blue, black, white, red, green and yellow. With black as the exception,  the other five colours are representative of a specific Buddha in the depiction of the Five Wisdom Buddhas of the Vajrayana or Tantric Tradition of Buddhism. 
"These works of art and writings by Kelly Dorji are a must-have introduction to healing through colouring." Tshering Tashi, Director of Mountain Echoes Festival. 
"A must-have for an introduction to the world of Bhutanese iconography and mysticism... and for colouring with deep meaning." Dasho Tshering Tobgay Former Prime Minister of Bhutan.
Softcover
ISBN: 9780143446569
WHERE TO FIND IT IN BHUTAN
Available in Craft Gallery Thimphu.
Available in Bhutan Natural Thimphu Outlet
RELATED ARTICLES
WHAT TO SHOP IN BHUTAN      |      WHAT TO BUY IN BHUTAN