COVID-19 Updates:
We have temporarily ceased walk-ins until further notice. Please click this
link
for further information.
Bhutan Cordyceps Green Tea
25 bags
Cordyceps Green Tea is for strengthening body immune system. 25 tea bags per pack. 不丹野生冬虫夏草绿茶 Bhutan Natural Singapore now accepts Bhutan Currency for this product ~ Nu1,019
Ingredients: Bhutanese Wild Cordyceps and Organic Green Tulsi Tea of Darjeeling. 
For maximum benefits, avoid adding milk or sugar.
You can add fresh mint leaves or a small spoon of honey to make your Cordyceps Green Tea more enjoyable.
Used tea bags, can be refrigerated to become facial cleanser or soothing eye bags.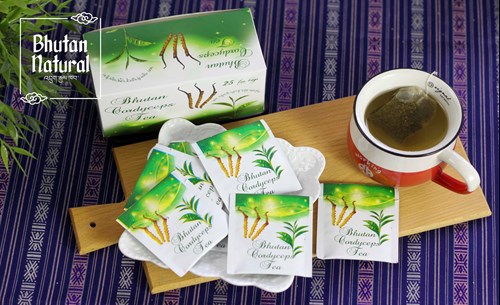 Health Benefits: 
Immune System
Digestive System
Storage - Keep in a dry cooling environment. 
WHERE TO FIND IT IN BHUTAN
Available in Craft Gallery Thimphu.
Soon to be available at Namgay Heritage Thimphu and Tenzinling Resort Paro
RELATED ARTICLES
WHAT TO SHOP IN BHUTAN      |      WHAT TO BUY IN BHUTAN
A PRODUCT MADE IN BHUTAN, THE FIRST CARBON NEGATIVE COUNTRY
不丹野生冬虫夏草绿茶