COVID-19 Updates:
We have temporarily ceased walk-ins until further notice. Please click this
link
for further information.
Stingless Bee Honey
Putka Honey 25mL
Product of Bhutan. Antibiotic honey from Melipona Bees (Stingless Bees) in Bhutan. Produce from Lokchina Gewog Chukha Dzongkhag. This bottle holds 25mL of Gold Series Sour Honey.
A PRODUCT MADE IN BHUTAN, THE FIRST CARBON NEGATIVE COUNTRY
Bhutan is the first and only carbon-negative country in the world that is governed by the Gross Happiness Index. About 72 per cent of Bhutan's landmass is a forested area. It emits 1.5 million tons of carbon while its forests absorb approximately 6 million tons of carbon gases.   
BHUTAN APICULTURE ACTIVITIES 
Bhutan Sour Honey locally called "Putka Honey" is a superfood harvested by the stingless bees called Melipona under the tribe of Meliponini. 
Stingless Bee Melipona forages in the protected regions of Bhutan between 700 to 1500 meters above sea level at Lokchina Gewog, Chukha District.
Bhutanese Beekeepers do not use harmful pesticides and synthetic fertilisers. They are only relying on Stingless Bee to pollinate their crops and natural manure to increase their yields.
This amicable relationship with nature ensures the quality of the honey and sustainable ecosystem.
APIS MELLIFERA COMPARISON W/ STINGLESS BEE MELIPONA
Unlike the farmed European honey bees (Apis Mellifera), Stingless Bee Melipona has a high tolerance to predators and diseases because of their size and extensive use of propolis, which serves as germicidal and repellent. They are indigenous of the tropical and sub-tropical stingless bees that forage predominantly on native plants and inflorescences of tall forest trees for floral nectar and pollen.
Due to their stingless bee Melipona's small size, they collect nectar within a radius of 300-500 meters of the hive. Hence while farmed European honey bees can produce around 25kg of honey a colony per year, these stingless honey bees produce only around 700g of honey a settlement per year.
STINGLESS BEE MELIPONA ANATOMY 
Stingless Bee Melipona is much smaller in size as compared to the usual yellow and black honeybees; about three to five millimetres in size, and a slimmer body structure.
SUSTAINABLE APICULTURE PRACTICE IN BHUTAN
Bhutan farmers will leave at least 37% of the honey for the colony. Harvesting is done only during the honey flow of the mandarin orange seasons (November to January).
STINGLESS BEE HONEY PROPERTIES 
Putka Honey is a high level of propolis that contains Phenolic, Flavonoids and Cinnamic acid derivatives.
Propolis is a complex resinous material that bees collect from tree exudates primarily resins of leaf bud and other botanical sources. It contains all 16 amino acids, glucose, vitamins A, B, C, D and E, bioflavonoids and minerals.
It serves used for anti-cancer research; cell cycle arrest, induction of apoptosis, induction of mitochondrial stress, inhibition of cancer cell proliferation and tumour. 
GOLD SERIES TASTE / APPEARANCE: 
The Gold Series Sour Honey went through a natural dehydration process to mitigate the fermentation without compromising the abundant phytochemicals, antioxidants, and nutrients of the honey.
It has a beautiful amber-coloured that has an enchantingly sweet floral aroma and a mellow tangy, sweet-sour aftertaste.
VISCOSITY
Stingless bees honey is remarkably watery, an intrinsic characteristic that may be related to the humid tropical habitat. The higher moisture content together with the secretion of the enzyme from stingless bees stimulates fermentation in stingless bees honey. The abundant water condition invites beneficial microorganism to inhibit and thrive. 
THE REASON BEHIND THE SOUR TANGY TASTE
The resins contain a hydrocarbon base and terpenes, influencing and infiltrating honey stored in the propolis honey pods with a balsamic aroma and taste.
Storage - Raw honey does not require to be kept in the refrigerator. Keep at room temperature.
Bhutan Honey Health Benefits Articles: 
WHERE TO FIND IT IN BHUTAN
Available in Bhutan Natural Thimphu Outlet & Craft Gallery Thimphu
RELATED ARTICLES
WHAT TO SHOP IN BHUTAN      |      WHAT TO BUY IN BHUTAN
A PRODUCT MADE IN BHUTAN, THE FIRST CARBON NEGATIVE COUNTRY
不丹土蜂蜜(橘子花) - 不丹顶级产品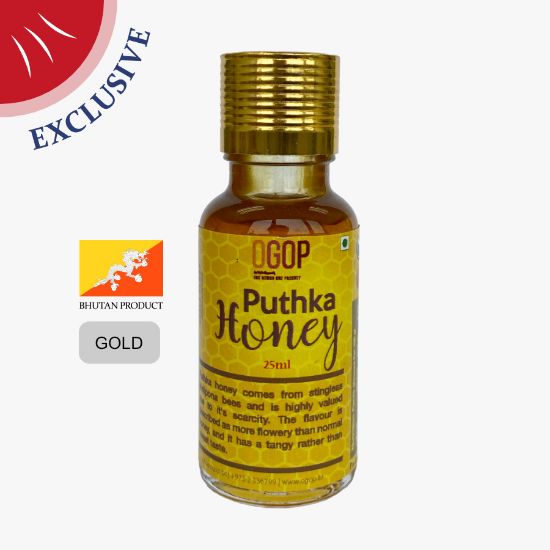 简述
不丹土蜂蜜是麦蜂(Melipona),一种无刺蜂,收成的超级食品。无刺蜂在不丹海拔700至1500米的保护区兴旺。因为小型的身体,差不多3至5毫米长,以及有个瘦小的身形,它们收成的营养比普通的蜜蜂多。
土蜂蜜的味道有点酸以及香浓味,也有特殊的花香。每个无刺蜂窝能收成大概700克的蜂蜜。
利益
高量的蜂胶内含有全16

样氨基酸,葡萄糖,维生素

A

,

B

,

C

,

D

和

E

,生物类黄酮和矿物质

能舒缓感冒和季节性过敏,降低血压和帮助食物中毒的病症
土蜂蜜现在用在抗癌研究
丰收期和地点
十一月到一月: 奇朗宗, 达加纳, 沙潘, 谢姆冈, 楚卡, 萨姆奇