COVID-19 Updates:
We have temporarily ceased walk-ins until further notice. Please click this
link
for further information.
Sea Buckthorn Syrup
300mL
Hippophae salicifolia (willow-leaved sea buckthorn) is restricted to the Himalayas. This product comes in 300mL 沙棘
Sea Buckthorn also referred to as sandthorn, sallowthorn, or seaberry
Hippophae salicifolia (willow-leaved sea buckthorn) is restricted to the Himalayas, to the south of the common sea buckthorn, growing at high altitudes in dry valleys.
Health Benefits of Sea Buckthorn
Hair, Skin, and Nails
General Immunity
Cardiovascular System
Gastrointestinal
Weight Management
Coined as the "Miracle Berry", sea buckthorn has shown impressive result during the clinical trial for overall well-being, cardiovascular health, oral and digestive care, and great beauty perks for glowing hair, skin, and nails.
One of the most potent plant source in the world for the elusive Omega 7 fatty acid; provides almost every nutrient the body needs and the synergistic health benefits no single nutrient can.
It has every single one of essential fatty acids including a near 1:1 ratio of Omega 3 to 6 which is considered ideal for humans. With vitamins, minerals, antioxidants, and flavonoids, it has some of the most potent available from any single source.
How to Drink - 
Mix 1/5 of the Sea Buckthorn Juice to 4/5 of the water. "Based on the volume of your cup"
Best to serve elderly people in the morning, and younger adults in the evening time.  
Storage - Keep in refrigerator after opening. Consume within a month after opening for optimal results. 
Customer Reviews: 
Medicinal Classics (Sea Buckthorn)
Sea buckthorn has been used as a drug by traditional Tibetan and Mongolian medicine since ancient times. It has pharmacological effects on the lungs, the stomach, the spleen, the blood circulation,  recorded in some medicinal classics.
Four Medical Classic (Four Tantras), Si Bu Yi Dian, (四部医典) of the Tang Dynasty
A traditional Tibetan Medical Reference compiles in the 8th Century, with four volumes and 158 chapters. There are 30 chapters that involve sea buckthorn medicinal properties.
Materia Medica, Jing Zhu Ben Cao, (晶珠本草) of the Qing Dynasty
A classic Tibetan medical reference completed in 1736, gained its recognition in 1840 of the Qing Dynasty. It is considered to be the equivalent of the Han Compendium of Medica Materia.
Yue Wang Yao Zhen (月王药诊) of the Tang Dynasty
The oldest and Fundamentals of Tibetan Medicine. Also known as Soma Raza, originated in China by a Han Buddhist doctor, called Mahayana (玛哈亚纳) in the 8th century.
WHERE TO FIND IT IN BHUTAN
Available in Bhutan Natural Thimphu Outlet
RELATED ARTICLES
WHAT TO SHOP IN BHUTAN      |      WHAT TO BUY IN BHUTAN
A PRODUCT MADE IN BHUTAN, THE FIRST CARBON NEGATIVE COUNTRY
不丹野生沙棘, 不丹天然产品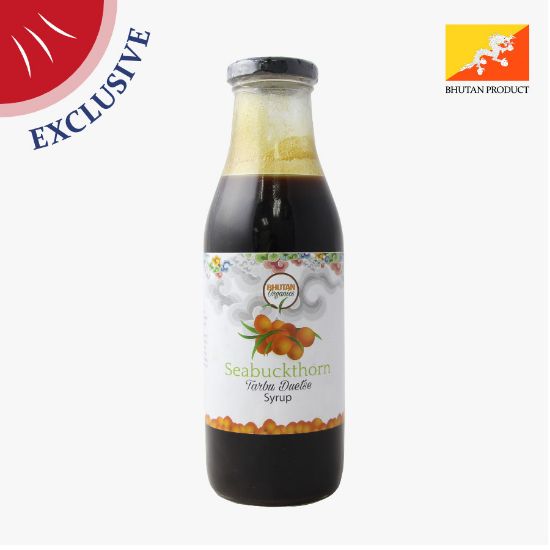 简述
沙棘在日本被称为"长寿果"、俄罗斯称为"第二人参"、美国称为"生命能源"、印度称为"神果"、中国称为"圣果". 临床试验显示沙棘对身体、心脏、胃有优异的效果.
尤其美貌:头发、皮肤和指甲有益。

沙棘是全世界包含最高的奥米茄-7脂肪酸,3和奥米茄-6接近1对1的比率.并富有其他必要的维生素、矿物质、抗氧化剂和类黄酮,来滋养你的身体
健康利益
更健康美丽的头发、皮肤以及指甲
较好免疫、心血管的系统和胃肠
体重管理
收藏法
历史
沙棘是一个被中国中医药典和世界药典广泛入药的植物。在唐朝时,沙棘出现在月王药诊和四部医典里,而在清朝,它出现在晶珠本草内。