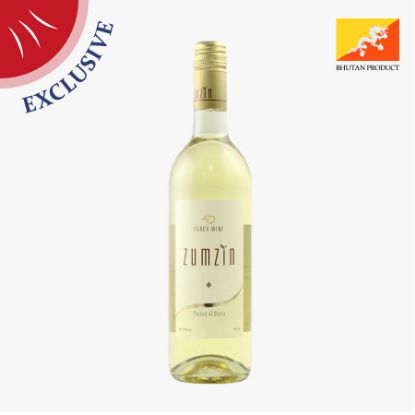 Peach Wine Zumzin
Exclusive to India
Natural and pure fruit flavor features the taste of juicy and fully ripe peaches. An impressive sweet and fruitiness on the palate. Standard Shipping to India SGD6.20
A Bhutanese recipe from The Gelephu Distillery, under the Bhutanese Army Welfare Project. The Annual Peach Harvest in Bhutan is in the month of June, and the varieties ranges from July Elberta, Floradsun, Nonome Wase, Shimizu, Hakuhou, and Redhaven species.
GROWN IN BHUTAN - JAPANESE QUALITY (HIGH QUALITY QUEEN OF PEACHES)
Early Elberta - Large fruit with slightly red-blushed yellow skin; yellow flesh, slightly bitter flesh.
Shimizu (White Peaches) - Graceful color of pinkish milky white. (Queen of Peaches), Splendid blend of of soft texture, juice and sweet fragrance.
Hakuhou (White Peach) - Soft texture, plentiful juice and rice sweetness.
Redhaven - Medium fruit with brilliant red

 

over yellow skin; juicy, sweet and fine grained.
TASTE DESCRIPTION:
Appearance: Light Gold Pale Straw
Natural and pure fruit flavor features the taste of juicy and fully ripe peaches. An impressive sweet and fruitiness on the palate with a lingering aftertaste.
Alcohol Content 12% - 750mL bottling
Note: Buyers located in India, please proceed to checkout as per normal. Under the remark, please indicate additional information of your address (such as Landmarks, or alleys) 
不丹蜜桃酒 - 不丹最受女性欢迎