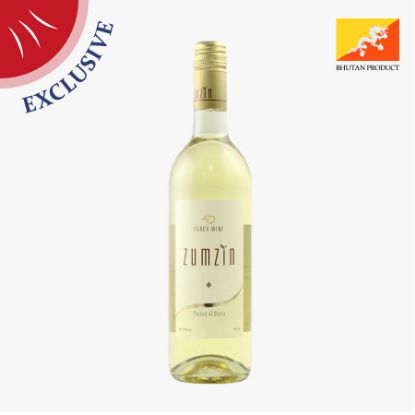 Bhutan Peach Wine ZumZin
750mL
Natural and pure fruit flavor features the taste of juicy and fully ripe peaches. An impressive sweet and fruitiness on the palate. Bhutan Natural Singapore now accepts Bhutan Currency for this product ~ Nu2,050
Peach Orchard is an Integrated Horticulture Development Program for commercial deciduous fruit production in Bhutan. Following the guidelines of the Late King Jigme Dorji Wangchuck.
A policy by the late King Jigme Dorji Wangchuck that was also found in his book, "When Planting an Orchard"; The primary objective in agricultural development should be self-sufficiency and maximize wealth using available land. Abandoned lands and other fertile lands should only be utilized for raising fruit and vegetable crops.
Under this guidelines, Bhutan's orchards is generally located on mountain slopes in between the cultivated fields and the forest cover, dry lands in the valley bottoms, and along the mountain slope contours.
A Bhutanese recipe from The Gelephu Distillery, under the Bhutanese Army Welfare Project.
The Annual Peach Harvest in Bhutan is in the month of June and the varieties ranges from July Elberta, Floradsun, Nonome Wase, Shimizu, Hakuhou, and Redhaven species in Thimphu, Paro, Punakha, and Samtse
GROWN IN BHUTAN - JAPANESE QUALITY (HIGH QUALITY QUEEN OF PEACHES)
Early Elberta - Large fruit with slightly red-blushed yellow skin; yellow flesh, slightly bitter flesh.
Shimizu (White Peach) - Graceful color of pinkish milky white. (Queen of Peaches), Splendid blend of of soft texture, juice and sweet fragrance.
Hakuhou (White Peach) - Soft texture, plentiful juice and rice sweetness.
Redhaven - Medium fruit with brilliant red

over yellow skin; juicy, sweet and fine grained.
TASTE DESCRIPTION:
Appearance: Light Gold Pale Straw
Natural and pure fruit flavor features the taste of juicy and fully ripe peaches. An impressive sweet and fruitiness on the palate with a lingering aftertaste.
Alcohol Content 12% - 750mL bottling
WHERE TO FIND IT IN BHUTAN
Available in Craft Gallery Thimphu.
Soon to be available at Namgay Heritage Thimphu and Tenzinling Resort Paro
RELATED ARTICLES
WHAT TO SHOP IN BHUTAN      |      WHAT TO BUY IN BHUTAN
A PRODUCT MADE IN BHUTAN, THE FIRST CARBON NEGATIVE COUNTRY
不丹蜜桃酒 - 不丹最受女性欢迎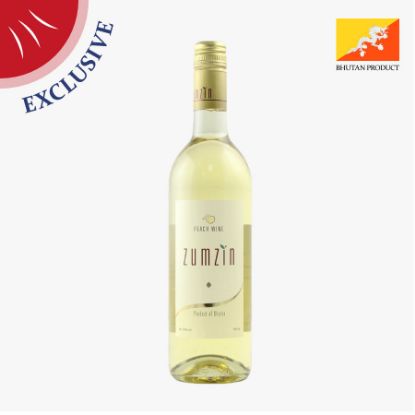 Customer Reviews:
Sep 29, 2017
"The Bhutan Peach Wine is incredible!! If you're a moscato fan you will absolutely LOVE it!"
- Vera Joy Meng